This vegan lentil & mushroom bolognese is the perfect comfort meal. It is one of my go-to recipes when I am in a hurry. I usually prepare vegetables and mushrooms in the morning, so that when lunchtime comes, my meal can be ready in 30 minutes.
Add some gluten-free or regular pasta and you'll have a delicious, healthy, and filling lunch or dinner.
Want more healthy comfort food ideas? Check out this delicious  Red Lentil Quinoa Stew recipe.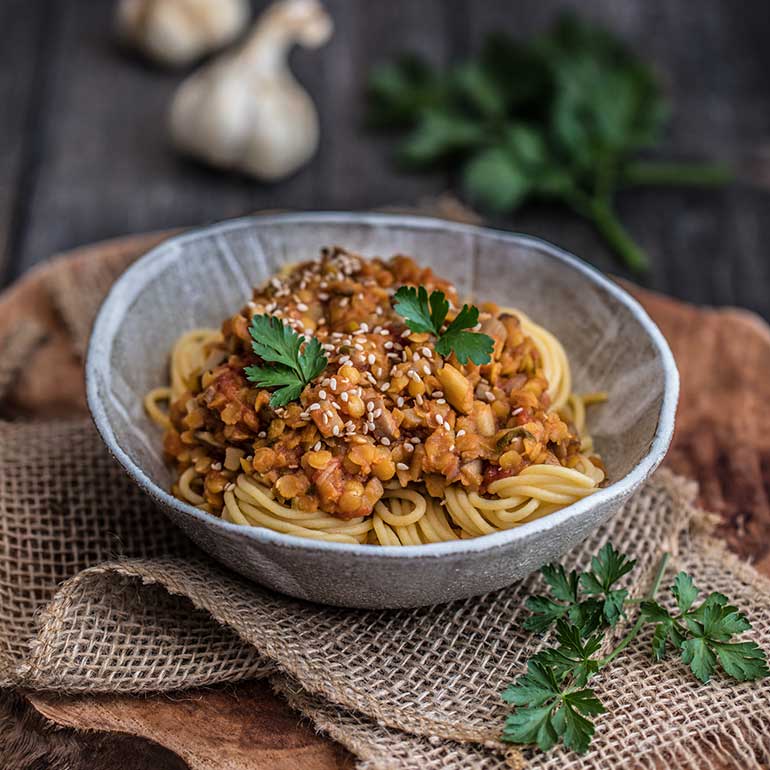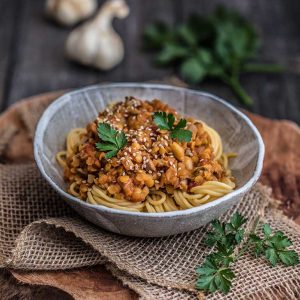 Lentil & Mushroom Bolognese
Ingredients
Lentil & Mushroom Bolognese
2

tablespoons

olive oil

2

cups

leeks

chopped

250

g

Cremini or brown mushrooms

chopped very finely

3

cloves

garlic

diced

1

cup

chopped tomatoes

1

cup

tomato puree

1

cup

water

1

tablespoon

chopped parsley

200

g

red lentils

2

tablespoons

coconut sugar

1/2

teaspoon

cardamom

ginger powder

to taste

salt to taste

1

tablespoon

nutritional yeast

optional
Instructions
Lentil & Mushroom Bolognese
Rinse red lentils well and let them drain thoroughly.

In a large pot, heat 2 tablespoons of olive oil over medium heat. Add chopped leeks and brown mushrooms, and cook for about 8-10 minutes while stirring constantly. After about 10 minutes add minced garlic and continue to cook for about 1-2 minutes.

Add in the red lentils, chopped tomatoes, tomato puree, chopped parsley, and water. Bring the bolognese to a boil. Add 1-2 tablespoons of coconut sugar and season with a little salt, ginger, and cardamom.

Cover, reduce to a simmer and cook on low heat for about 25-30 minutes until the lentils are tender. Check the seasonings and add more salt and spices if needed. You can also add 1 tablespoon of nutritional yeast.
Pasta
Cook 200g spaghetti following the pack instructions.

Drain the spaghetti and stir into the bolognese sauce. Top with sesame seeds and chopped parsley.
Tried this recipe?
Let us know how it was in the comments section. We are very grateful for your feedback.
If you like this image, click below to Pin and follow us on
Pinterest.
Never miss a recipe!
All images and text © Nensi & Slaven Beram. Read more about copyright and usage policy here