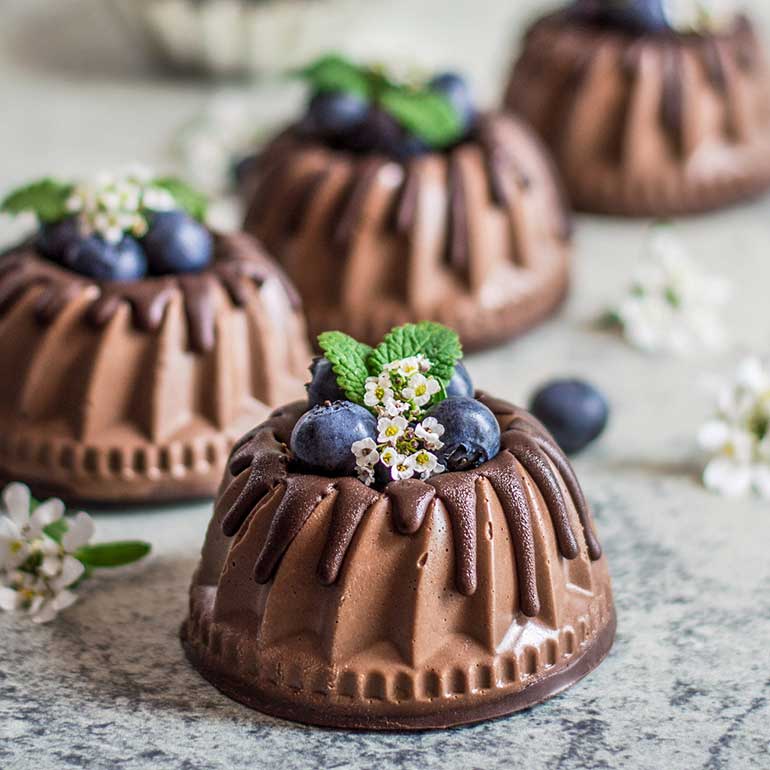 Triple Chocolate Mini Bundt Cakes
No-bake triple chocolate mini bundt cakes with a dark chocolate base and chocolate cashew cream. Delicious, vegan and gluten-free.
Ingredients
Chocolate filling
150

g

cashews

previously soaked in water for a minimum 4 hours

100

g

coconut cream

the thickened coconut cream from a can of full-fat coconut milk

3

tablespoons

coconut oil

100

g

dark chocolate

50

g

dates

previously soaked in water for minimum 1 hour

1-2

tablespoons

agave

for extra sweetness, if needed
Chocolate base (and the drizzle)
Instructions
Chocolate filling
Melt the coconut oil and chocolate over low heat in a medium pot.

Drain cashews and place them in a blender. Add coconut cream, melted chocolate, drained dates. Blend on high speed until smooth and creamy. Adjust sweetness by adding 1-2 tablespoons agave or date syrup.

Pour the filling into silicone bundt cake molds and place them in the freezer to firm up for at least a couple of hours.
Chocolate base
Melt chocolate over low heat in a medium pot. Let it cool down a bit.

Pour the thin layer of melted chocolate over the chocolate filling and freeze till set.
Serving suggestion
Before serving, drizzle the cakes with some extra chocolate and decorate with blueberries and edible flowers.
Notes
Always chill your coconut milk in the refrigerator overnight, being sure not to shake or tip the can to encourage separation of the cream and liquid.
Tried this recipe?
Let us know how it was in the comments section. We are very grateful for your feedback.
If you like this image, click below to Pin and follow us on
Pinterest.
Never miss a recipe!
All images and text © Nensi & Slaven Beram. Read more about copyright and usage policy here