Disclosure: This post contains affiliate links, meaning, at no additional cost to you, we will earn a small commission if you click through and make a purchase.
Get 15% off on all powders with our discount code: ALLTHEWORLDISGREEN15
Blue spirulina, also called Blue Majik, is a blue pigment derived from blue-green algae. It is very mild in flavor, almost flavorless.
It's perfect for coloring raw cakes, smoothies, lattes, noodles, rice, and more.

Pink pitaya, also called the Dragon fruit, is very high in fiber and rich in antioxidants.
The powder is specially freeze-dried to preserve flavor and nutrients. It tastes great and has a gorgeous, bright pink color.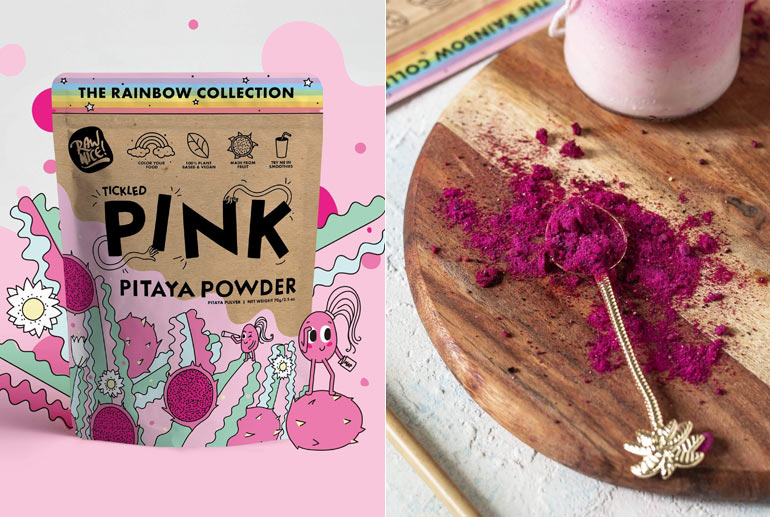 Butterfly pea flower powder is made by grinding organic, dried butterfly pea flowers.
It's perfect for coloring your morning smoothies, unicorn noodles, pasta, and rice, making rainbow sushi or raw cheesecakes.
Activated charcoal is an odorless, black powder usually used to trap toxins and chemicals in the body.
It is pretty harmless in small amounts and you can use it to color your smoothies, waffles, ice creams, and more.
Green matcha is loaded with antioxidants, amino acids, and other nutrients. It is considered to be one of the most powerful superfoods on the market today.
Use it to make lattes, smoothies, and raw desserts.
Turmeric is great as a natural food coloring since it provides a bright yellow color thanks to its pigment Curcumin.
It is mostly used in savory dishes but you can also use it to color your sweet treats.
Black Goji Berry Powder is an all natural purple food coloring. It's perfect for coloring smoothies, lattes, baked goods, noodles, raw desserts and more.