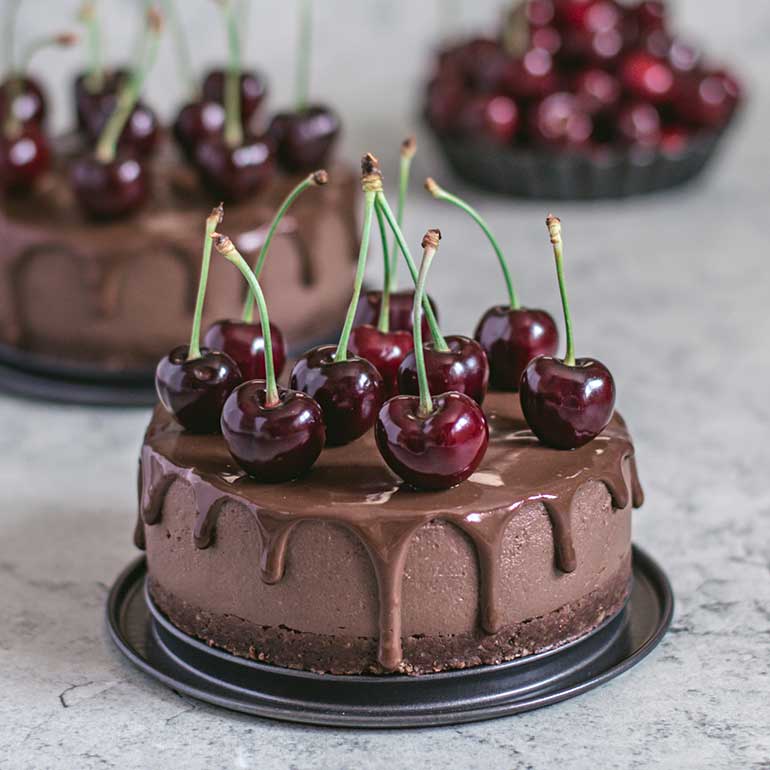 Healthy Millet No-Bake Chocolate Cake
This healthy millet no-bake chocolate cake is packed with wholesome ingredients. Gluten-free, vegan, and perfect for almost any occasion.
Ingredients
Crust
80

g

roasted almonds

10

g

rolled oats

80

g

dates

previously soaked in water for minimum 1 hour

1

tablespoon

cacao powder
Chocolate-millet cream
100

g

millet

350

ml

almond milk

150

g

dates

previously soaked in water for a minimum of 2 hours

50

g

creamed coconut

highly concentrated coconut in a firm block

100

g

roasted hazelnuts

ground

1-2

tablespoons

almond milk

if needed

date syrup, to taste (for extra sweetness, if needed)
Chocolate topping
100

g

coconut cream

the thickened coconut cream from a can of full-fat coconut milk

2-3

tablespoons

agave
Instructions
Crust
Line the base of two mini 10 or 11 cm springform cake tins with baking paper.

Place almonds and rolled oats in a food processor and process until they are finely ground. Add drained dates and cacao powder and process until the mixture sticks together. Adjust sweetness by adding date syrup if necessary.

Divide the mixture between two cake tins and press down firmly to form the base. Refrigerate while you make the filling.
Chocolate-millet filling
Rinse millet well and let it drain thoroughly. Put it in a large pan or a medium pot with 350 ml almond milk. Bring to a boil. Reduce heat to low, cover and cook for approx. 15-16 minutes (make sure you don't overcook it).

Remove from heat. If there is any liquid left, drain it well and let it cool down completely.

Melt creamed coconut and chocolate over low heat in a medium pot. Set aside.

Drain dates and place them in the blender. Add cooked millet and blend until you get a thick paste.

Add melted chocolate, ground hazelnuts, and process again until you get a smooth, thick chocolate cream. Adjust sweetness if necessary by adding a little bit of date syrup.

Add 1-2 tablespoons almond milk if the chocolate cream is too thick.

Spread the chocolate cream on top of the crusts. Place the cakes in the fridge, best overnight.
Chocolate topping
Melt chocolate over low heat in a medium pot. Stir until smooth. Let it cool down a bit.

Add coconut cream, melted chocolate and agave to the blender and blend shortly until smooth.

Using a teaspoon, carefully spread chocolate topping over the cakes. Put the cakes in the fridge for half an hour to allow the topping to firm up.
Notes
Always chill your coconut milk in the refrigerator overnight, being sure not to shake or tip the can to encourage separation of the cream and liquid.
Did you make this recipe?
Please leave a comment below and let us know how it was. We are very grateful for your feedback.
* The nutritional information provided is calculated automatically and should be used as an estimate.
If you like this image, click below to Pin and follow us on
Pinterest